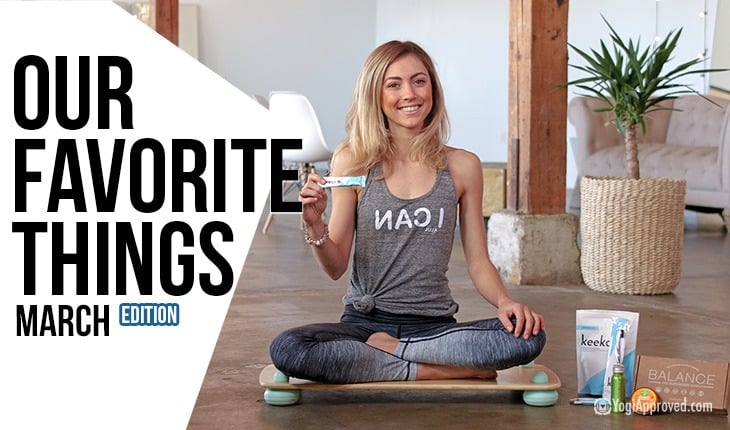 Our Favorite Yoga and Healthy Lifestyle Products – March Edition (Video)
The editors of YouAligned.com love yoga and everything related to living a healthy and natural lifestyle. We pride ourselves on keeping our finger on the pulse of the industry, and we take reviewing the latest trends and products very seriously. Our Favorite Things is a monthly recurring article and video featuring all of our editor's latest finds that we want to share with you!

You never know what fun stuff we'll find next, so stay tuned!

Here are the 5 yoga and healthy lifestyle products we are loving this month.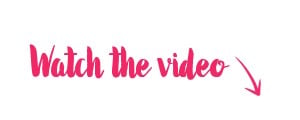 Read the full article below for more information about these amazing products:

Pono Board from Pono Ola


Pono Ola is a company based out of Northern California that makes the Pono Board – a balance board made out of sustainably harvested bamboo. This balance board simulates a beach workout to activate the core and stabilizing muscles, and also creates the perfect stability challenge as a standing desk to strengthen core and lower body without causing a distraction. It's stunning aesthetic is something you'll want to keep in your home, studio, or office.

Shop this awesome and effective standing desk balance board here.


Activewear Outfit from Juja Active


Juja Active is a one-stop-shop that curates your favorite yoga and activewear items from your favorite brands. The ultra-soft Blizzard Gray Leggings by W.I.T.H. are made from a polyester/spandex blend that fit true to size. We love pairing them with the Juja Active brand I Can Tank, a cute + simple cotton blend racerback tank that gives back by donating proceeds to victims of gender and domestic violence. The video also features the Serena Bra by Uintah Collection, a strappy fashion statement bra that offers functional support.

Shop all the best yoga and activewear brands on Juja Active here.


Balance Superfood Shots by Life Equals


Life Equals is a nutrition and wellness brand that offers a variety of healthy supplements, from probiotics and Omega-3 to a women's daily multivitamin and more. The Balance Superfood Shot is a tiny bottle that packs a big punch – half the daily serving your body needs of organic, non-GMO fruits and veggies like pineapple, carrot, spinach, kale, acai, goji berry and more with no sugar added. We love the immense health benefits that you get from drinking this convenient two-ounce superfood shot.

Shop this nutrient-dense supplement from Life Equals here. Interested in a sample? Try their free trial 2-pack!


Tinted Facial Moisturizer from Raw Elements


We're in love with Raw Elements, a natural sunscreen line developed by an Ocean Rescue Lifeguard as a healthier, eco-friendly alternative to chemical sunscreens. The Tinted Facial Moisturizer is 30+ SPF, organic, water- and sweat-resistant, cruelty-free, reef safe, and made with natural ingredients like green tea, sunflower oil and hempseed oil. We love that it rubs in easily with a natural look that's great for both men and women!

Shop our new favorite organic tinted moisturizer here.


Morning Mint Oil Pulling + Charcoal Toothbrush by Keeko Oil


Oil pulling is an Ayurvedic wellness detox treatment that reduces plaque and bacteria in the mouth. The Morning Mint Oil Pulling sachets from Keeko Oil are made from organic cold-pressed coconut oil plus peppermint, spearmint, lemon, myrrh, chamomile oils for whiter, stronger teeth and improved oral hygiene overall. Follow your oil pulling by brushing your teeth with Keeko Oil's Binchotan Charcoal Toothbrush – made with activated charcoal bristles that help whiten teeth and also keep your toothbrush naturally bacteria-free.

Get your Keeko Oil products here for a healthier, happier smile.


What were your favorite featured products? Please share any comments or questions below – we love hearing from you.

Thanks so much for watching and don't forget to subscribe to our YouAligned YouTube channel to stay up to date on all of our latest videos!!

This article has been read 4K+ times. Feelin' the love!

YouAligned
YouAligned is an online yoga, health and wellness publication for your life on and off the mat. We are here to help you live happier, healthier, more fulfilled lives. Yoga is our passion. Your healthy lifestyle is our obsession!
You may also enjoy

The editors of YouAligned.com love yoga and everything related to living a healthy and natural lifestyle. Here are 5 yoga and healthy lifestyle products we are loving this month.

YouAligned