10 Perfect Songs For Your Next Yoga Playlist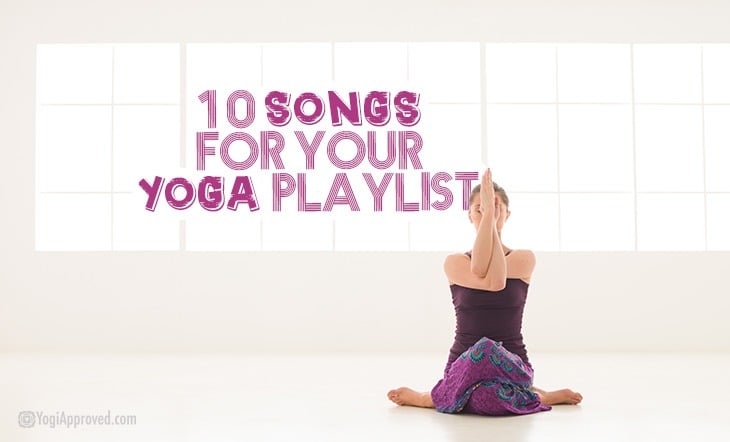 If you've ever sat down to create a playlist for a yoga class, you know it can be like staring at a blank page that gets blanker by the moment. Building a playlist is no joke.
You can't just throw random songs together and expect the class – or your personal yoga practice – to flow well. It takes intention, thoughtfulness, a keen ear, and vision.
Do I take music and making yoga playlists too seriously? Hell no! Music has such a powerful impact on everything, and your playlist can make or break a yoga class experience. I was teaching a class last week and accidentally had my music on shuffle.
"Sabatoge" by The Beastie Boys came screaming on in the middle of a yin pose, and it fucked with the vibe I was aiming to create in a big way.
To start, each song needs to be flow-friendly. Your playlist also requires an order that defines the beginning, middle, and end of your yoga class.


Here Are 10 Songs to Kick-Start Your Next Yoga Playlist:
1. "Lebanese Blond" by Thievery Corporation
Start with this tune, and explore their repertoire of very yoga-conducive greatness.

2. "French Exit" (SNRF version) by The Antlers
Both calming and energizing, just like Ujjayi breathing.

3. "Gold" by Chet Faker
It makes you want to practice yoga. It makes you want to cook. It definitely may excite you in other ways too, but try to keep it together when you're practicing at the yoga studio. ☺

4. "Africa" by Cottonbelly Remix
I heard this song while watching the incomparable Sarah Tomson Beyer do one of her patented Flowmotion sequences. You can watch it here:
Now, I couldn't quite pull off the re-creation of this incredible flow, but I did snag the song on Spotify, and it delights me every time I play it.
5. "Get Free" by Major Lazer
This song ripped through me the very first time I heard it. It's on far too many of my playlists, and I don't care.

6. "Crush" Metaform
This song has some vocals, but no lyrics, and it's perfect for that arc in class when things are dialing down, but you're not yet headed for savasana.

7. "Drowning" by Banks
I fell for her after hearing her first well-spun song, "Begging for Thread."

8. "To Be Alone" by Hozier
If you don't feel something when you hear this song, be concerned.

9. "Holiest" by Glass Animals
I play the hell out of this band in class, and this particular song is very unique and dreamy.

10. "I" by Benn Jordan
A sweet, calming, and lovely savasana song.


There You Have It: Your New Favorite Yoga Playlist!
There is so much music to love and be influenced by. It's so much fun to go to a yoga class and hear a song you've never heard, but can't wait to hear again, and maybe include in your next yoga playlist.
Being wowed by music is one of the best feelings there is. That with the accompaniment of doing yoga, well, there's very little that's better than that.
Follow me on Spotify for my public yoga class playlists.
Building playlists takes practice too, so talk to me! Let me know if you have any questions or thoughts in the comments below.

This article has been read 50K+ times. Hot damn!