5 Yoga and Wellness Products We Love – June Edition (Video)
The editors of YouAligned.com love yoga and everything related to living a healthy and natural lifestyle. We pride ourselves on keeping our finger on the pulse of the industry, and we take reviewing the latest trends and products very seriously.

Our Favorite Things is a monthly recurring article and video featuring all of our editor's latest finds that we want to share with you!

You never know what yoga and healthy lifestyle products we'll find next, so stay tuned! Here is what we are loving this month.

Check out this video, and read the full article below for more information about these amazing products:
Never miss a FREE class. SUBSCRIBE HERE
Learn. Grow. Shift. 30 Days of Personal Growth Workbook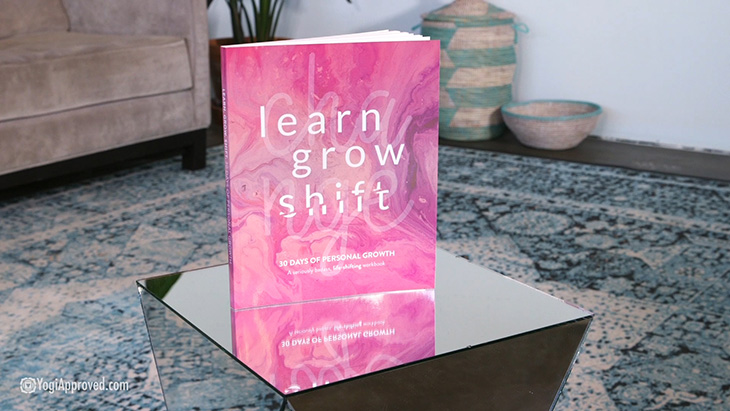 Learn. Grow. Shift. is a 30-day workbook for personal growth. Written by Ashton August – the founder of YouAligned – this workbook will help you establish positive habits, engage in self-reflection, and work through 30 full days of learning, growing, and shifting in all areas of your life.

This workbook will challenge you to grow into your path and life purpose, from your perspective to your sense of self-confidence. You will feel more positive, confident, grounded, and present in your day – and ultimately in your life overall. Are you ready to start this journey?

Check out this popular personal growth workbook here.


The Wellness Box by YourTea


YourTea makes an entire line of high-quality wellness teas and authentic blends all based in Traditional Chinese Medicine. We're loving their Wellness Box which is a sample pack of Happy Tea, Antioxidant Tea, Sleep Tea, and Energy Tea. This makes the perfect gift for a tea lover (or someone new to tea!) and is also a great way to explore some of our personal favorite tea blends from YourTea. Cheers!

We reviewed the Liver Cleanse from YourTea. See our results here

Shop this Wellness Box from YourTea here. Use code YOGILOVE for 40% off your purchase.


Easy Meditation For Everyone Kit by Wai Lana


Everyone can benefit from a meditation practice, and the Easy Meditation For Everyone Kit is a perfect place to start. If you want to begin – or deepen – a meditation practice, this kit from Wai Lana sets you up with two DVDs that offer ten forms of meditation – from sound meditation to meditation with breathwork, chakra meditation and more – a yoga sound meditation CD plus mala beads and an accompanying booklet guide.

Shop this Meditation Kit from Wai Lana here.


Spiritual Gangster OM Namaste Velvet Yoga Bralette + Threads for Thought Firefly Leggings from YogaOutlet


YogaOutlet.com is an online yoga brand retailer that carries the top brands in yoga and activewear at discounted prices, including the outfit featured in this video.

The adorable OM Namaste Velvet Yoga Bralette by Spiritual Gangster is comfortable, stylish and unique. This bra is perfect for more gentler forms of yoga, and also makes the perfect top for festival season!

Shop this Spiritual Gangster bralette on YogaOutlet here.

The Firefly Leggings by Threads 4 Thought (featured in Charcoal) are a simple, timeless look with a buttery soft brushed fabric made from recycled plastic water bottles. These performance leggings are moisture-wicking, double-paneled, and move with you but stay in place for a distraction-free practice.

Shop these Threads 4 Thought leggings on YogaOutlet here.


Premi-Om Yoga Mat by Youphoria Yoga


Youphoria Yoga makes high-quality yoga products, and their Premi-Om Yoga Mat (featured in vibrant Jade but also offered in black and purple) is a true gem in the sea of yoga mat options. The Premi-Om mat is anti-slip, anti-microbial, has amazing grip, and is super absorbent. It's also lightweight, and with a price tag under $60, we love the overall value.

Shop this awesome yoga mat here. Use code YogiAP20 for 20% off your order.


What were your favorite featured products? Please share any comments or questions below – we love hearing from you.

Thanks so much for watching and don't forget to subscribe to our YouAligned YouTube channel to stay up to date on all of our latest videos!!

This article has been read 2K+ times. Feelin' the love!

YouAligned
YouAligned is an online yoga, health and wellness publication for your life on and off the mat. We are here to help you live happier, healthier, more fulfilled lives. Yoga is our passion. Your healthy lifestyle is our obsession!
You may also enjoy

Our Favorite Things is a monthly recurring article and video featuring 6 yoga and wellness products that we want to share with you!

YouAligned