6 Yoga and Wellness Products We Love – May Edition (Video)
The editors of YouAligned.com love yoga and everything related to living a healthy and natural lifestyle. We pride ourselves on keeping our finger on the pulse of the industry, and we take reviewing the latest trends and products very seriously.

Our Favorite Things is a monthly recurring article and video featuring all of our editor's latest finds that we want to share with you!

You never know what fun stuff we'll find next, so stay tuned! Here is what we are loving this month.

Check out this video, and read the full article below for more information about these great products:
Never miss a FREE class. SUBSCRIBE HERE
Kind Tank by NamasteFit


NamasteFit is a seva-based yogawear brand that gives back to local community organizations each month. The featured Kind Tank says "Namaste Kind" on the front and has a racerback cut made from a polyester/cotton blend. It's super soft and lightweight – perfect for yoga or lounging.

Shop this awesome yoga and activewear line here. Use code: YA15 for 15% off the entire month of May!


Flux Leggings by Manduka


The adorable dance-inspired Flux Tight leggings by Manduka are made from a recycled polyester blend. The dance-inspired ankle wraps are very trendy this season. These leggings have a four-way stretch, classic rise waist, and fit true to size.

Shop these Manduka leggings here.


Daily Sheer Tinted Facial Mineral Sunscreen SPF 30 by Babo Botanicals


Babo Botanicals is a natural beauty line with products from skincare to hair, baby and more. The Tinted Facial Mineral Sunscreen is moisturizing but lightweight and non-greasy.

Great for light to medium skin tones and sensitive skin types, this daily sheer SPF 30 sunscreen contains Babo's Nutri Firm Complex of Kahia, Sea Buckthorn, Rosehip and Argan Oil and other ingredients your skin loves like Vitamin C, antioxidants and anti-aging hyaluronic acid.

Check out this sunscreen by Babo Botanicals here.


Yoga Wheel by Zura


Zura makes high performance yoga gear, including a particularly unique yoga wheel that we're love in with. Aside from its bright colors, the extra wide width and acupressure points are what make this yoga wheel stand apart from the crowd.

These acupressure points give your body a feel-good self-massage but also increase circulation and stimulate paraspinal mechanoreceptors to help reduce pain. This eco-friendly wheel is made with BPA-free plastic and recycled rubber. It's antibacterial, lightweight, and supports up to 300 pounds.

Shop this awesomely unique yoga wheel here. Use code: YOGIAPPROVED for 20% off.


Howlite + Pyrite Gemstone Mala Bracelet by Lovepray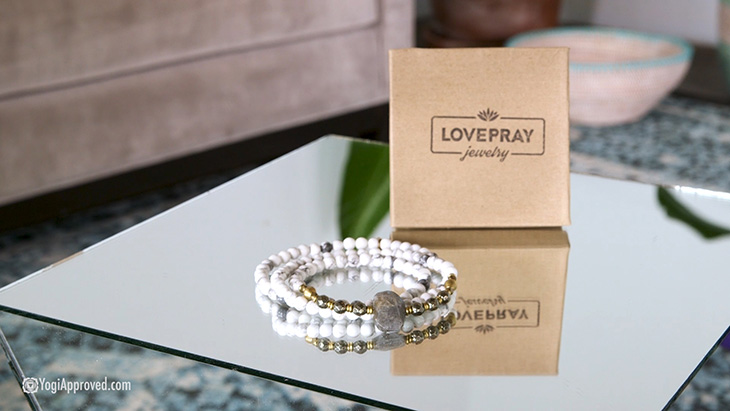 Lovepray is a California-based handmade yoga jewelry brand that makes beautiful, meaningful pieces including this gorgeous 108-bead Howlite + Pyrite Gemstone Mala which can be worn as a bracelet or necklace.

Howlite relieves stress and prepares you for meditation. Pyrite cultivates confidence and opens the Third Chakra. The mala has a stunning Labradorite guru bead.

Shop this Lovepray mala here. Use code FAVORITE25 for 25% off through May 9, 2018.


Standard Yoga Bolster by Hugger Mugger


Hugger Mugger makes high-quality yoga products, and their Standard Yoga Bolster is one of our favorites. It's featured in olive but offered in a wide variety of colors and prints. This handmade bolster is filled with foam and covered in a durable cotton fabric. It's supportive, firm and super comfortable, perfect for Restorative yoga poses like supported Savasana.

Shop your new favorite yoga bolster here. Use code: HuggerMugger20 for 20% off through June 1, 2018.


What were your favorite featured products? Please share any comments or questions below – we love hearing from you.

Thanks so much for watching and don't forget to subscribe to our YouAligned YouTube channel to stay up to date on all of our latest videos!!

This article has been read 2K+ times. Feelin' the love!

YouAligned
YouAligned is an online yoga, health and wellness publication for your life on and off the mat. We are here to help you live happier, healthier, more fulfilled lives. Yoga is our passion. Your healthy lifestyle is our obsession!
You may also enjoy

Our Favorite Things is a monthly recurring feature highlighting 5 of our editor's favorite yoga and healthy lifestyle finds that we want to share with you.

YouAligned